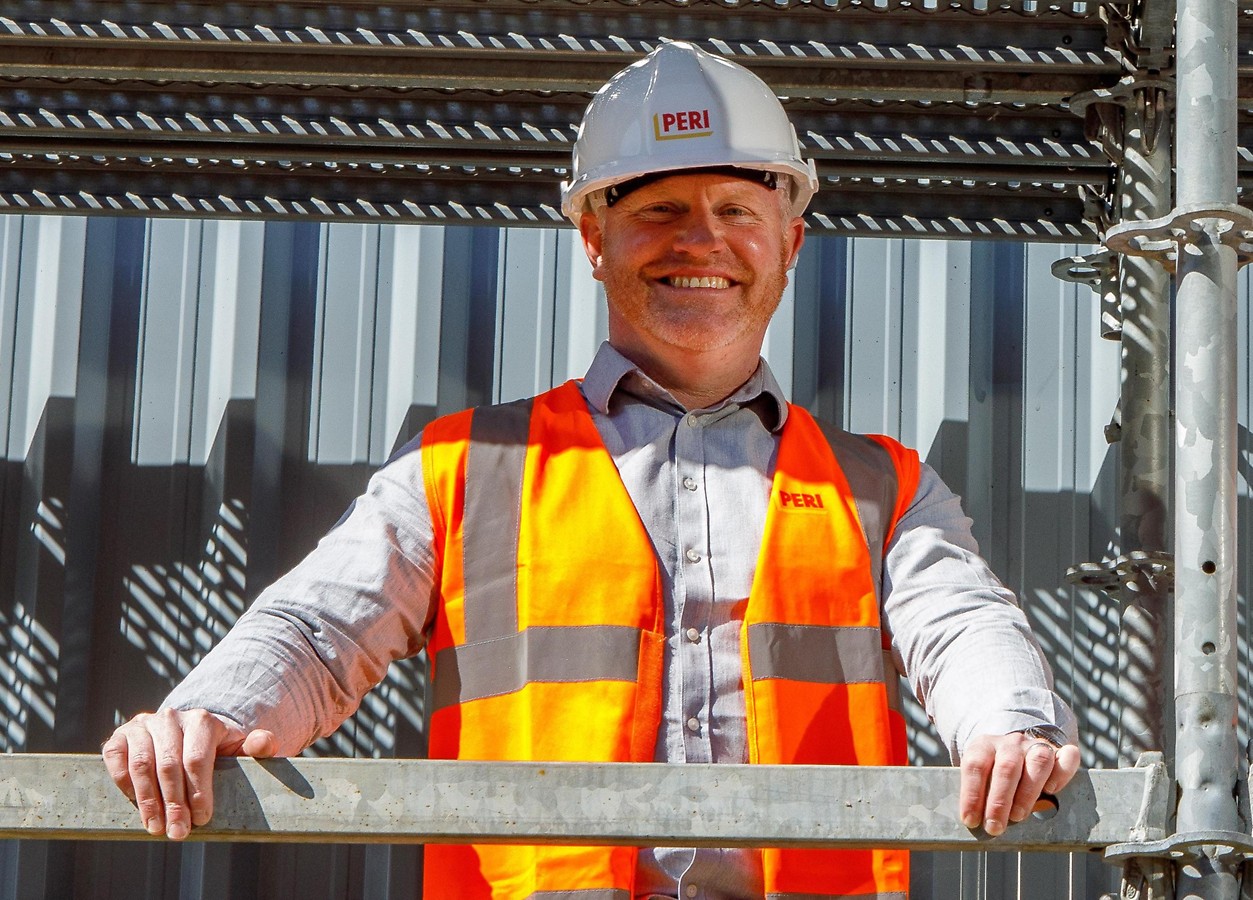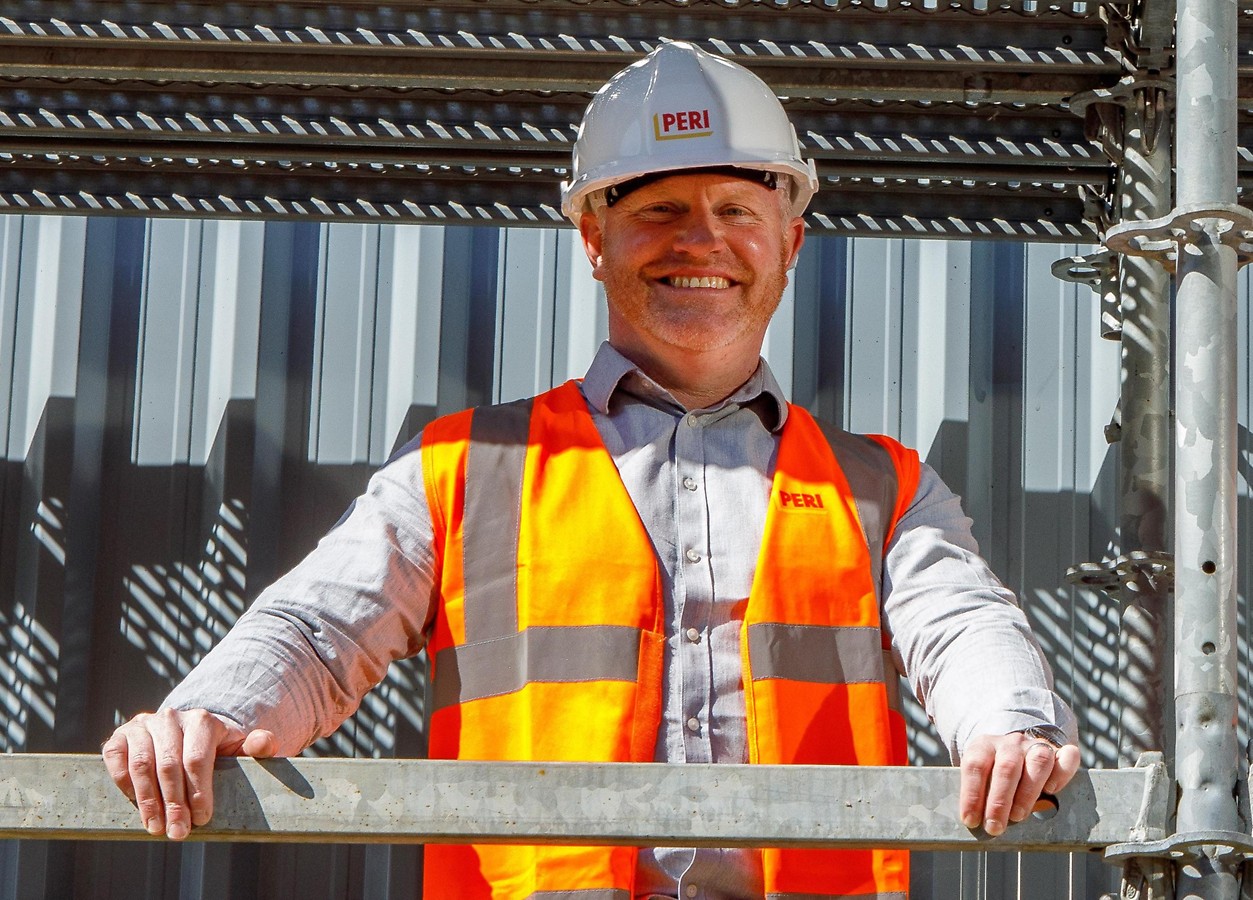 With a significant number of high-rise buildings yet to be fully remediated and further potentially unsafe buildings to be assessed, it's crucial that we provide the right temporary access systems on these projects to shorten programmes and minimise disruption in the future.
Why should we focus on recladding?
Following the Grenfell Tower tragedy in 2017, the UK Government addressed the fire safety risks caused by unsafe cladding on high-rise buildings. It has since introduced the most significant building safety reforms in 40 years. The Building Safety Act, which was granted Royal Assent in April 2022, has been a catalyst for major changes in building construction and remedial works.
Since the surge of recladding work in the UK, temporary access has been in high demand. Growing pressure to hand these projects over quickly means the speed of installation and removal of temporary access is important to all contractors involved. The speed at which these projects are completed is equally important to the residents occupying the buildings, as their lives are often disrupted due to the work being carried out.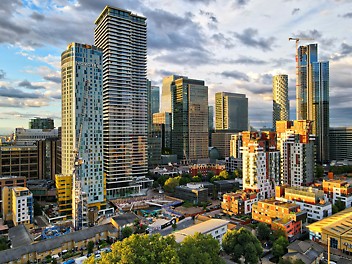 Scaffolding Vs Mast climbers
To replace cladding, contractors need access to the façade. In most cases, this requires working at height and at multiple levels simultaneously, making scaffolding the ideal solution. This type of access system enables different trades to carry out tasks at the same time, speeding up the entire process. Additionally, scaffolds are less likely to be affected by high winds as they are not typically weather-dependent.
Mast climbers on the other hand offer less protection from the elements, which could mean work is delayed until weather conditions are more favourable. The longer a project is delayed, the costlier it becomes. Another cost to factor in is the power source required for mast climbers to work, which varies depending on the size of the system.
Although motorised systems like this have their advantages and can be a good solution for modern facades, they are not always practical when removing EPS cladding systems found on older buildings. This is because EPS cladding comprises lightweight polystyrene insulation which breaks apart during the removal process and is difficult to contain in windy conditions if the access system is not enclosed properly. This type of cladding is thought to be just as prevalent in the UK as the ACM cladding system used on Grenfell Tower.
In many cases, mast climbers are limited at lower heights, which suggests that they work best when used in conjunction with scaffolding, as the latter can provide access around the base and the lower floors, offering protection to the public while works continue above.
Why the right type of scaffolding access is important
Cladding removal poses a risk of falling objects and debris if the temporary access system is not contained properly. To prevent this risk when using scaffolding, protective sheeting such as Monarflex can be wrapped around the structure.
Although protective sheeting for scaffolding provides a safer working environment for contractors, it raises the issue of an entire building being covered for a long period of time, often obstructing windows in the process. While this has been the norm for recladding projects, residents are continually disrupted by poor exposure to natural light in their living environment.
Research shows that poor exposure to natural light for prolonged periods can have an impact on mental health and wellbeing. According to UCLA Health (2022), being in an environment with low levels of natural light can result in 'poor sleep, low mood and depression'.
In the worst cases, cladding remediation on a high rise building above 18 metres high can take up to two years. Programme extensions and delays like this can be caused by the complexity of the project, labour shortages, means of access and the cost and availability of materials required.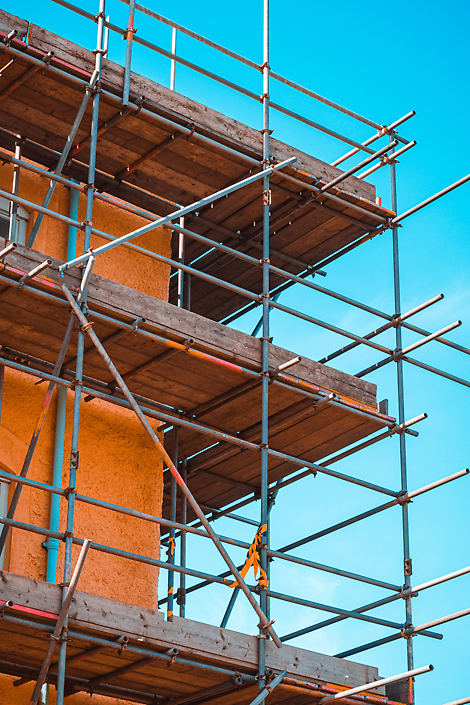 Timber boards, often used for traditional tube and fit scaffolding, is one material which has been affected by economic changes in recent years, with high demand and fewer imports causing price increases and project delays.
In addition to price volatility and supply shortages, the use of timber for façade applications such as recladding seems illogical as it's a combustible material. Surely using non-combustible materials around buildings that pose a fire risk should be a priority?
We know scaffolding plays a vital role in critical remediation work. With the scope of this work widening as more buildings are assessed, it's important to work with smarter systems to minimise the cost and duration of remedial works, while improving the safety and wellbeing of all involved.
Improving the outlook – a 'system'atic approach
Innovative and modular scaffold systems offer many benefits, such as shorter programme times, reduced preliminary costs, flexible arrangements, minimal components, and a reduced risk of falling objects, slips, trips and falls.
System scaffolding encourages best working practices such as early engagement and planning to ensure build sequences are economical and practical. From basing out correctly to minimising the impact on residents at each lift, everything is considered prior to the build. Proper planning thus ensures faster build times and promotes faster removal of scaffolding, presenting a multitude of options to suit the main contractor's programme.
For example, a conventional scaffolding structure is typically erected to all façade elevations of a building first to enable cladding removal. With modular system scaffolding and planning, flexible build sequences give contractors the option of erecting fewer elevations simultaneously.
This means cladding work can be carried out in phases, so the entire building does not need to be wrapped for the duration of the project, enabling contractors to challenge standard business-as-usual approaches.
The speed of installation and dismantling can be explained by looking at system scaffolding components in more detail.
For instance, PERI UP, like most other system scaffolds, has built-in steel locking decks instead of traditional timber boards which lock into position instantly. No additional components are required for installation. Other safety components, like the advanced guardrail on the PERI UP Easy façade system, enables the next level to be constructed from the working platform below. With integrated safety features like this, we can prevent the need to implement proprietary equipment such as Scaff Steps, resulting in minimal effort and time required to erect the next scaffolding lift.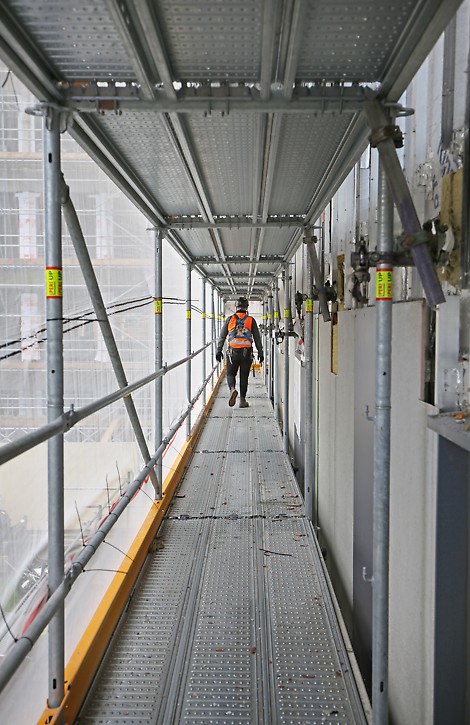 The common perception is that system scaffolding lacks the flexibility that conventional scaffolding offers. However, system scaffolds have evolved significantly over the years, with standard solutions being equally capable of accommodating complex geometries such as stepped façade elevations and curved building façades.
When comparing the speed of system scaffolds to conventional scaffolding, it's also worth considering the weight of the material and the number of components being handled manually. Typically, system scaffolding components are lighter. With fewer and lighter components, coupled with advanced build technologies such as built-in advanced guardrail systems (AGS), there is potential for scaffolders to erect more square metres a day.
This was the case on The Link – a residential high-rise building in London requiring façade access for remedial works. It was predicted that access installation would take 16 weeks using traditional scaffolding methods. With the PERI UP Easy system, it was completed in just four weeks, reducing installation time by 75%.
It is also important to note that system scaffolding is made of non-combustible components like steel – a safer alternative to using timber on recladding projects.
Investing in system scaffolding
System scaffolding can support the long-term projection for cladding remediation. With the right planning and training, scaffolding and cladding contractors can save time, labour, and prelim costs, while reducing the impact on residents.
After the Grenfell tragedy and the anxiety surrounding the recladding industry, the importance of making the process as smooth and fast as possible is greater than ever.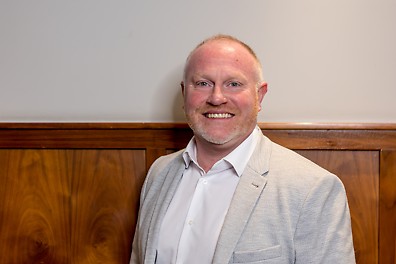 Business Development Manager, PERI UP Scaffolding
Charles Stratford
If you have any questions on this topic or would like to use system scaffolding for your project, you can contact Charles.